The label "investor" has a whole host of connotations. It may bring to mind an image of a gray-haired businessman in a pinstriped suit, a tech bro in a logo t-shirt, or that trendsetting friend who is always finding the next big thing. The modern investor can be anyone.
Technology has played a vital role in the spread of investing, and it has certainly made it a more accessible endeavor for investors of any age, stage, and bank account balance. It has helped reframe how we invest, and how we think about investing. This is particularly true for younger investors, who, thanks to the events happening in the world today, are realizing its importance in building long-term wealth and stability.
But there's another side to it.
Keeping in context all that's been transpiring globally, recent market volatility has discouraged many younger investors who haven't completely bought in yet.
So, when to start investing? The answer is now! Despite extreme market fluctuations, experts maintain that there is no better time than the present to start investing. Whether we're facing an economic downtown, allocating some of your hard-won earnings to investing will set you up for long-term success.
Looking at Gen Z in particular, a large percentage appear to be taking advantage of the benefits of investing early. According to a survey by Investopedia, 54 percent of Gen Z already have some kind of investment: ranging from mutual and exchange-traded funds (ETFs) to cryptocurrencies and non-fungible tokens (NFTs). The fact that over half are investing is promising because youth shouldn't be a barrier to entry. Rather, it's a power position.
But there's a discrepancy in the number of Gen Zs who are investing compared to those who are confident in their investing knowledge, the latter of which dips to 46 percent. This is lower than baby boomers, Gen X, and millennials, which may not come as a surprise given the age of those previous generations and the experience that comes with it. It may also be because the sources of information available to us have drastically increased, and it can be hard to know whom to trust – or even whether you can trust the concept of investing and whether it pays off in the long-term.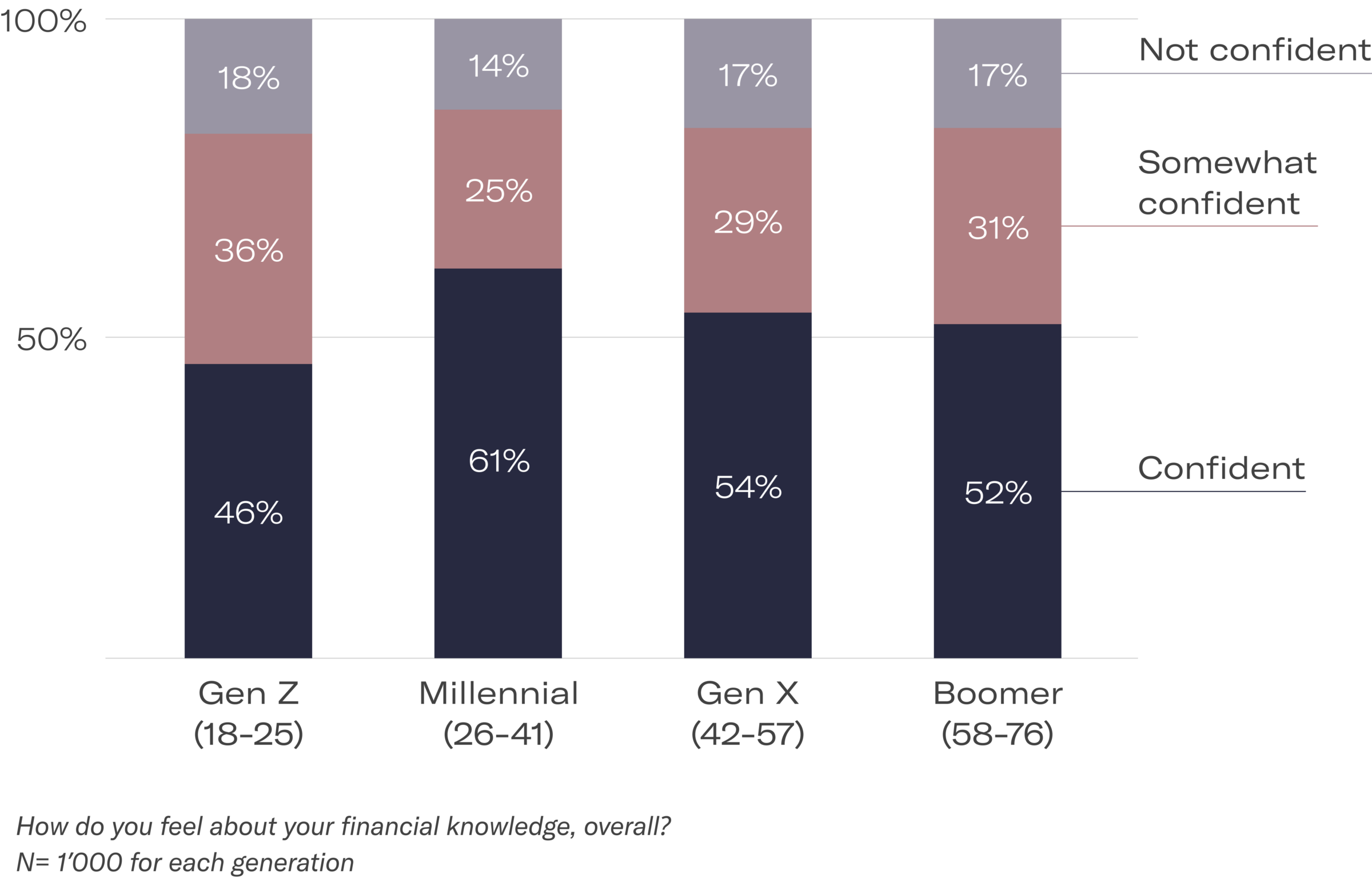 Confidence in personal financial knowledge by age group
Source: Investopedia
For that half of Gen Z that is not investing, it may seem easier to ignore all the noise and put off investing until their financial situation becomes more stable. We saw this with millennials back in the 2010s, and historically they've been the generation to struggle the most financially.
The notion of putting off investing until finances increase is not a helpful one – and is actually harmful to your future financial self.
Gen Z has the prime opportunity to avoid the investing mistakes of millennials and instead set themselves up for years of prosperity from now. Investing as a young adult is a prime opportunity, even with college debt and lower salaries. There are tenfold reasons, but we will explore some of the key ones below.